The Different Formats of an Improvisation Show.
Although Drama and improvisation have always mingled, it was in the 1970s that the different improvisation show formats were established.
One of the first improvs shows takes place in a hockey rink… So how do you go from rink to boards?
Explanation!
The improvisation match:
---
This format comes straight from Montreal and was created by Robert Gravel and Yvon Leduc on October 21, 1977 with the LNI.
An improv match consists of two teams wearing hockey jerseys, who compete against each other.
The referee manages the show and ensures that the rules of improvisation are respected. Using the hockey puck, the referee decides who starts the improvisations.
In this show, we count the points because the public votes each time their favourite improvisation.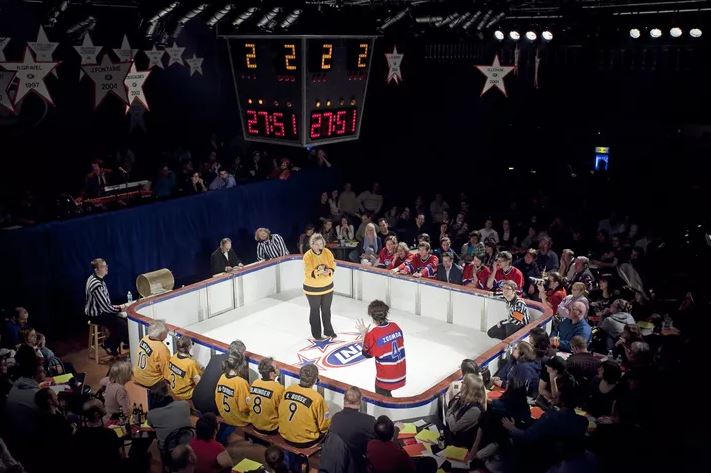 The improvisation cabaret:
---
This format adapts to any environment: on real theatre stages, as in the street!
It is a show in which the improvisers perform several improvisation skits in front of an audience with constraints imposed by a master of ceremonies.
They have twenty seconds of caucus (that's time to prepare for an improvisation). In this format, there is a lot of interaction with the public and it always remains a unique, intimate, and surprising show!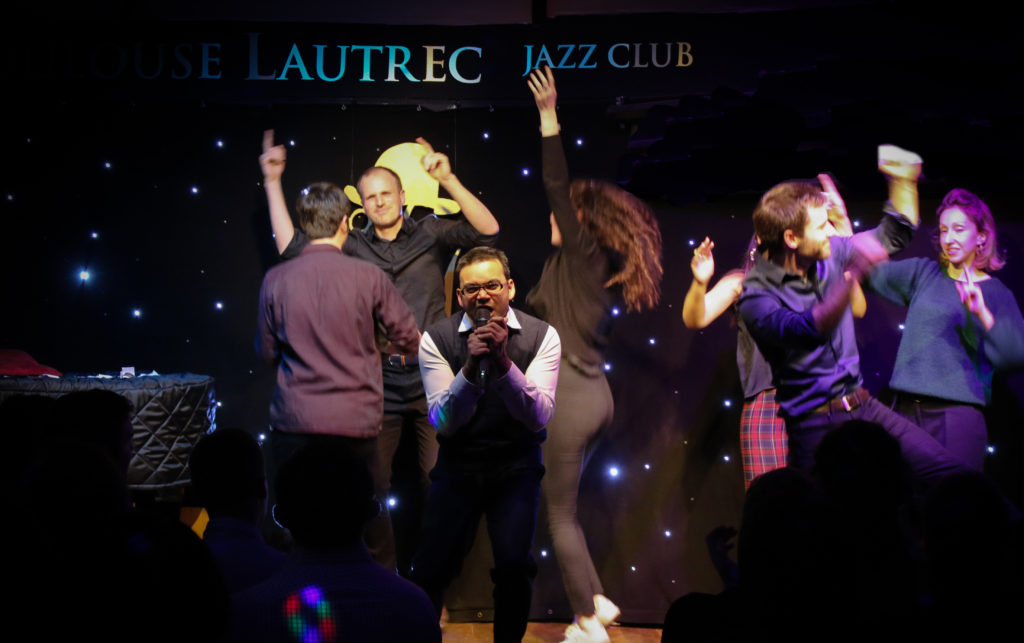 Theme :
For this show, the improv companies show their creativity by creating perfect "themed cabarets"!
For example: Cabaret Apéro, Cabaret Carte blanche, Cabaret forbidden to younger than 18 years old …
Courte et Longue forme :
"Short form" improvisation can last a few seconds or several minutes. You will therefore have the opportunity to see several improvisations during the show.
"Long form" improvisation is improvisation for a show! So as soon as the improvisation got underway, we were gone for the whole evening. Admittedly there is less interaction with the public, but the game and the performance are stunning!
Catch-Impro:
---
It is a concept created in Strasbourg in 1999.
The principle: 4 jousters divided into 2 teams who must compete under the eyes of an audience thirsty for creation, under the authority of a referee who "tries" to channel all this energy.
Our improvisers only have 5 seconds of caucus!
In this show there are no limits, no rules, it is pure energy, creativity, and inventiveness!
The spectator will have the opportunity to have their eyes full: repartee, mimes, turnaround … the objective here is to make incredible sketches full of surprises.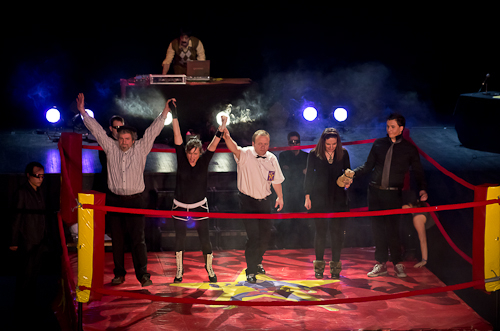 Here! I hope you understood correctly that the very principle of improvisation is to reinvent yourself! So, do not be surprised to discover other new improvisation show creations to our delight!
Now that you know everything, do not hesitate to follow the troops in your city to be up to date on all their news and shows and take our little "knowledge test" quiz below!