We have all a clown who slumbers in us. And you, what is yours?
Remove the mask for a make-up marrying marvelously the red, the white, the black, the blue … topped with a red nose, naturally! Act' in you give all the threads to make the clown for the theatre play!
What is a clown? 
A clown is a with a ruddy complexion coming character from the universe of the circus! More exactly: of the equestrian circus. Indeed, it is there or he was born in the XVIII century in England. He can play the comedy, juggle, be a magician, transform balls into animals, in brief he has more than one string to his bow!
What defined a clown are: his make-up and his suit. He exists different typical of clowns:
Auguste: he wears the famous red nose, giants shoes and clothes too big!
The Whitefaced clown: very elegant and authoritarian in his white suit, his make-up is very simple: a white foundation cream, a little red on his lips, nostrils and ears and 2 lines of pencil for his eyebrow and his mustache is enough for him.
Against clown: it is the clown which understands absolutely nothing! He does the disasters with Auguste.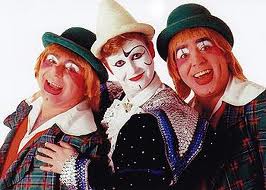 We get ready!
To make the clown for the theatre, let us make some exercises adapted to play him as good as possible. At first we can make the mirror of the exaggeration, your partner makes a small movement and you have to amplify him at the most. The clowns adore exaggerating.
Made an association of idea with your partners to stimulate your imagination.
Attention to associate well your word with the settled last one!
Mime! The clowns are not very talkative but adore miming. Their self-expression through movement is very important. Then enjoy making guess objects and places to your partners of play!
The final touch is, naturally: costume and make-up! Ample clothes, shoes giants, gloves white, bow tie, curly wig, make-up recovering all of the face and the famous red nose!
Clown's show!
It's now! Switch off the lights, light the stage and play the music of circus! You are ready to play the clown, Let's rock! Know that a clown falls to the ground, plays with the public, laughs, exaggerates, mimes, has a llot of enormous object, adores hiding in invisible boxes, is extremely mischievous, short everywhere and has a wild rhythm! Give yourselves strange names (Trick, tap, Zanzibar, toto, ball), play to 100% and especially have fun.
The clown and the theatre.
To make the clown from time to time for the theatre allows our comedian to develop really its self-expression through movement and the management of the space. It is an excellent exercise of disinhibition and of amusement.
Then bring out your red nose and have fun!